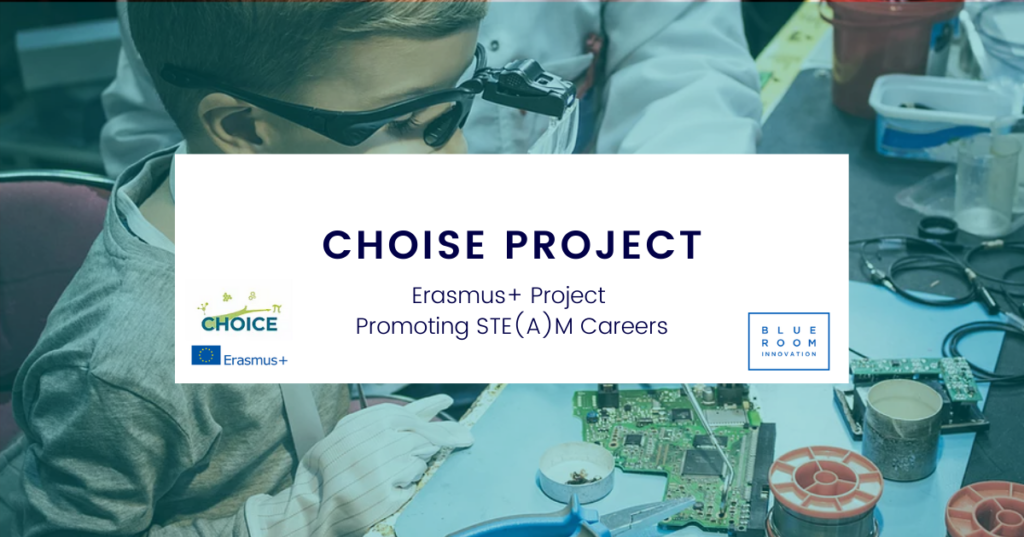 Based on our experience in technological development of platforms and innovative technological approaches, Blue Room will take the lead in the technical development of the MOOC (A. 3.4). In addition, Blue Room experts experience can certify more than 10 years of experience in developing and evaluating technology and project management, gives them the expertise to lead evaluation and quality assurance (WP5).
CHOICE aims to promote and improve STEM education at schools schools by designing innovative Open Educational Resources (OERs) collected in a MOOC that will increase the professional competences of teachers by equipping them with a STE(A)M approach of teaching..
By proposing a practice-oriented, ICT-based educational approach and an innovative STE(A)M-based training path, CHOICE shall:
Boost young people's interest towards STEM careers and subjects, thus contributing to produce a workforce capable of tackling complex societal challenges.
Involve teachers and students in a cross-disciplinary bottom-up learning process promoting the use of innovative pedagogies focused on a constructive interaction between STEM and non-STEM subjects.
Promote coordination and collaboration among education institutions, business, local authorities as key stakeholders able to support the reform of STEM curricula at school, turning them into multipliers supporting critical career choice of students.
Support transnational cooperation and mutual learning among and within education institutions promoting innovative STE(A)M approaches to STEM careers and education entailing a systemic impact on education systems.
The main outputs of CHOICE are easily transferable and implementable into different national contexts across Europe and beyond. More specifically they include:
State of the Art study, Reflective practice case-study compendium, Framework for reforming STEM curricula & Comparative Piloting Analysis.
Directrices de trabajo "Educación no formal para promover la coproducción de recursos educativos", REA y MOOC.
Good practice tool CHOICE@SCHOOL, Policy recommendations.
PARTNERSHIP:
REGIONAL DIRECTORATE OF EDUCATION OF WESTERN GREECE - GREECE

INSTITUT DE MAÇANET DE LA SELVA - SPAIN
If you want to know more about Blue Room Innovation projects, take a look at: FRIENDESK and HANDS .