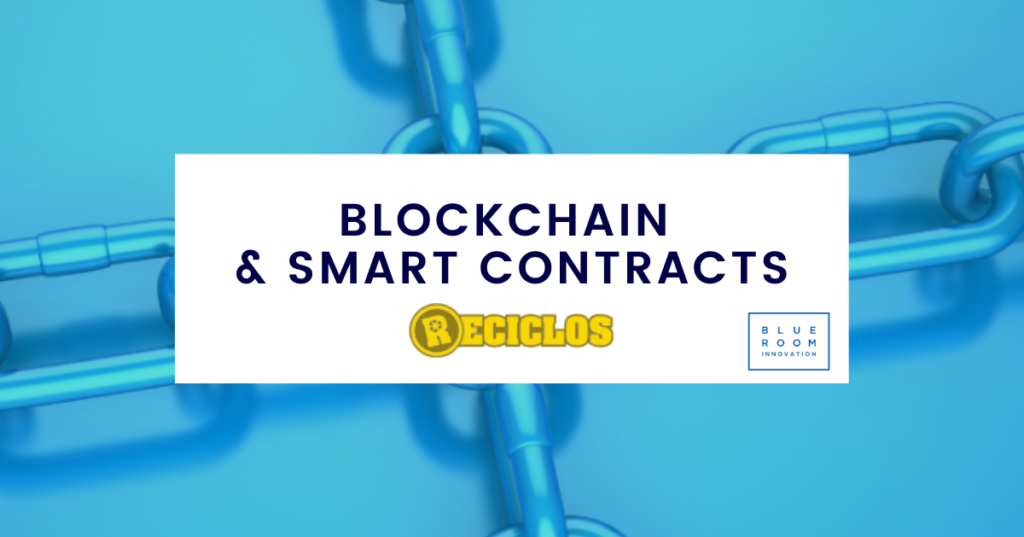 RECICLOS, a webapp which uses smart contracts to manage its rewards program.
The RECICLOS system combines new digital technologies and blockchain technology, to acknowledge and reward those who perform recycling in a correct, transparent, efficient and effective way.
It is an innovative model that rewards sustainable incentives and also makes technology its main advantage. The citizen takes a picture of the waste, recycles it as usual in the corresponding container, and accumulates points to receive sustainable rewards.
The points accumulated by the people who participate in RECICLOS can be exchanged for discounts on public transport, bicycle rentals for a greater contribution in reducing the environmental impact, discounts at local shops, collective projects that improve the municipality through environmental and social collaborating entities or donations to NGOs.
Blockchain technology
Blockchain technology Blockchain se encuentra entre las fuerzas más disruptivas de la última década y su poder para registrar, hacer posibles y asegurar un gran número y variedad de transacciones es incomparable. La misma tecnología -Distributed Ledger Technology (DLT) - que impulsa bitcoin también permite una mejor ejecución de sorteos y loterías mediante la compra de tokens con RECICLOS para la participación en dichos sorteos y participaciones de loterías tokenizadas, para donaciones y crowdfunding.
Para mantener el interés por las recompensas por parte de los usuarios, es necesaria una confianza total en ellas, y la transparencia de estas transacciones es clave tanto para los ciudadanos como para las organizaciones de financiación. Así, los DLT son la solución adecuada para proporcionar la transparencia, trazabilidad, auditabilidad exigidas, de forma distribuida, compatible y escalable para las numerosas administraciones públicas locales y empresas implicadas en la gestión de residuos.
Smart Contracts
In RECICLOS, the truly and untampereable random choice of the lucky winners was developed in smartcontracts to contribute with transparency and equality the lotteries and raffles process, as well as to track all transactions among users. The advantage of using smartcontracts is that they contribute strongly to the trust and confidence by citizens into the necessary belief that the rules are fairly applied to ALL.
A smart contract is a program that lives in a system not controlled by either party, in this case on the Alastria.io network and runs automatically: When a pre-programmed condition is triggered, not subject to any type of human assessment, the smart contract executes the corresponding contractual clause, in the case of RECICLOS to designate winners out of the participants, with a level of efficiency, transparency, and security so high that it does not need human notaries to inspect or witness the draw. Alastria is a non-profit association that promotes the digital economy through the development of decentralised ledger technologies/Blockchain.
La aplicación de contratos inteligentes - smart contracts, tiene como objetivo reducir o eliminar la gestión 24/7 del programa de recompensas de RECICLOS, y los gastos y esfuerzos para captar y movilizar a la ciudadanía y organizaciones públicas en una el proceso de escalada constante del proyecto de reciclaje digital pionero en España.
See more at positiveblockchain.io: