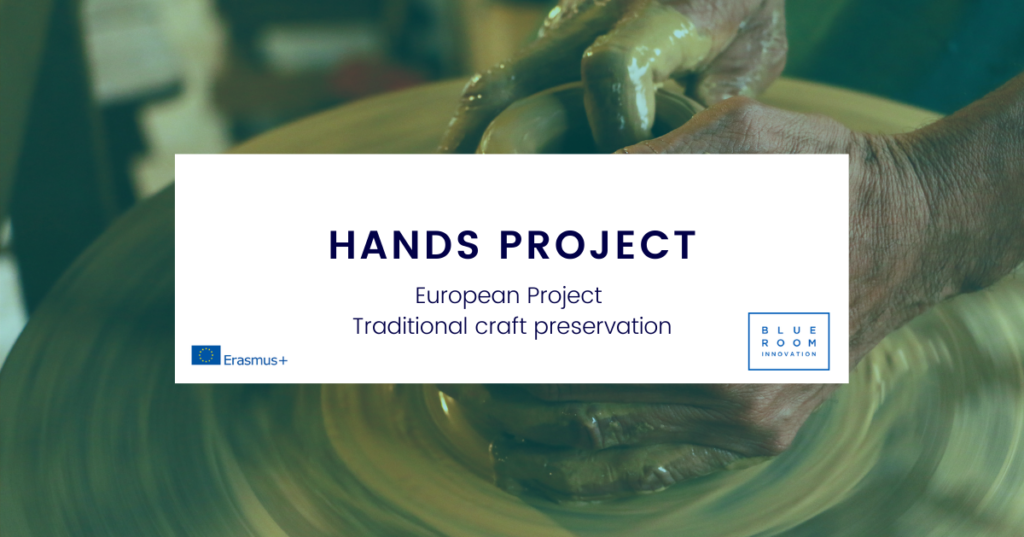 Based on the existence of Syrian master practitioners of traditional crafts in Jordan, and Syria, HANDS creates an opportunity to house these crafts in academic programs in these countries which has a market that demand for such crafts. Know more about HANDS!
Based on our experience in technology and innovation consultancy, Blue Room will take the co-lead in the technical development of the modules (WP 5).
By that we aim at:
Preserve the traditional crafts experience and knowledge from being lost.
Transfer the vast craft experience and knowledge into academic vocational courses in higher education.
Develop the managerial and marketing skills of master craftsmen through courses that addresses the market needs.
Assist the transfer of experience of current master craftsmen vocational skills via training courses to partner countries in which it will help in creation of common adapted model of vocational skills training courses.
Enriching vocational skills and training experience with EU teaching vocational skills training experience.
Establishing connections between the academic education and the society.
Establishing heritage craft centres will be established during the project lifetime and sustain it via links to the craft market in the region.
EU partners will help in training, design and marketing strategies of craft heritage projects which is essential to transfer this knowledge and experience to ME.
Encouraging an appreciation of the universal values that are fundamental to the world's great artistic traditions.
The regeneration of the arts and crafts on an international level through both research and projects.
An extensive network of relationships with Master practitioners of the world's great artistic traditions which mutually benefit the students and the craftsmen in their working environments.
The objective of this project is to create a potential Levantine vocational craft project in ME based on high expertise of Syrian and Jordanian craftsmen and to serve the community in the field of vocational skills training projects. Providing a university vocational career-relevant training of high-quality through special designed courses based on innovative heritage training and state of the art craft facilities.
The Project Project will provide practice oriented career relevant education in short and intense courses that lead to accredited vocational diploma degree preparing craft based craftsmen for professional practice in craft heritage projects through establishing a traditional craft centres in Jordan and Syria.
PARTNERSHIP:
KARMEH DESIGN STUDIO - JORDAN

ALBAATH UNIVERSITY - SYRIA

HOCHSCHULE OSTWESTFALEN-LIPPE - GERMANY
If you want visit other educational projects, have a look at FRIENDESK