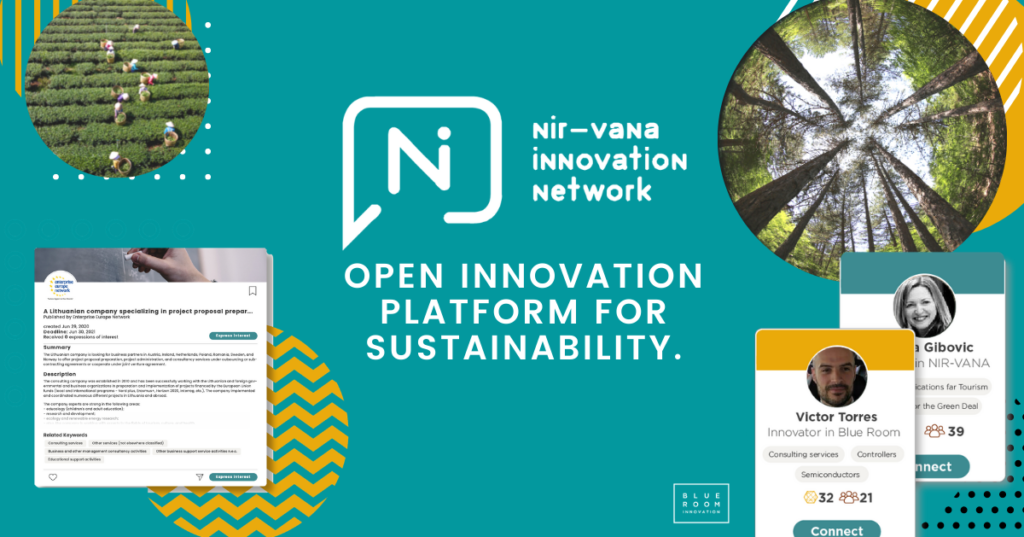 Nir-vana, the Open Innovation Platform for Sustainability.
Find the right opportunity and grow up your innovation ecosystem.
Our planet is constantly changing, and it has become a great challenge for all of us, being forced to adapt our daily routine and businesses to align ourselves with what it needs from us. With the help of technologies that enable digital collaboration, companies and people can pull forward sustainability initiatives by acting together and creating powerful innovation networks.
The pandemic context experienced during 2020 has forced many sectors to innovate to be adapted to the new needs. In a situation where face-to-face relationships have been greatly diminished, innovation towards digitalization has been key to adapting during this time.
This scenario and its consequent economic and social crises have invited us to reflect on the future we want and how prepared we want to be for whatever comes next. It also seems that we have felt comfortable with these changes and that we were waiting until we were forced to do so to step on the accelerator!
This change is unstoppable
We have become citizens of a world that has realized that it is fragile and that it must be cared for so that we can all continue to live in health and calmy.
Digitization and sustainability, the key
Digitization and sustainability are the two key points for the construction of our future, and this means changing the way we do things, innovating.
One of the main obstacles to innovation is the scarce availability of resources and the lack of knowledge. It is not always possible to count on the best experts for a project and therefore, collaboration is presented as the only way to attract talent and build the future together.
Nir-vana has been transformed and adapted to the current news and has been aligned to speed up the creation of ecosystems that pursue sustainability.
Nir-vana's mission is to speed up the creation of innovation ecosystems to build a future where sustainability is the protagonist.
In the new Nir-vana, we are all innovators, working together with a common goal of achieving a more sustainable future, which in most cases goes through technological innovation and digital transformation. Companies, professionals, entities, universities ... all in the same place and with the same objective.
Propose your project in NIr-vana or join other projects, as well as contact a large network of experts in different sectors to build our future together.
Do you dare to discover it?
Spread the word, let's get together and make sure that no sustainable project misses its opportunity!
Nir-vana is co-funded by European Regional Development Funds (ERDF) " A way to make Europe".