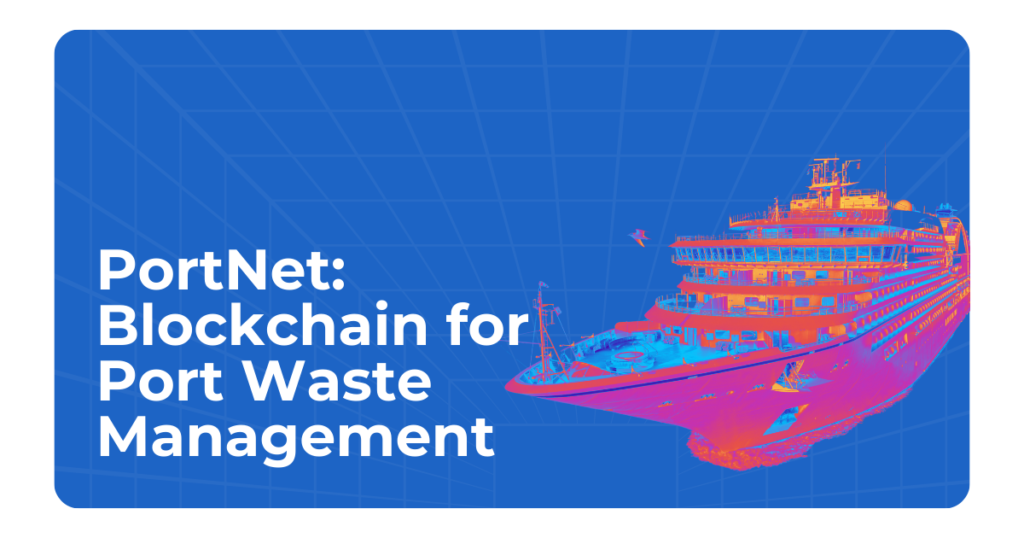 PortNet: blockchain for waste management in ports
PORTNET is blockchain-powered waste management solution for greener, more efficient ports & harbours.
PortNet objectives - blockchain solution
The objective of PORTNET is to eliminate the defects of bureaucracy and improve processes of port waste management and its recycling.
That according to the experiences collected from the application of blockchain technology in ports supply chain, can achieve improvements of 70% in terms of process. How? simplification, eliminating waiting times leading to a better coordination, obtaining operational and security advantages in port facilities.
In addition, blockchain's traceability will avoid fraud from shipowners when discharging waste at port and disincentivize the illegal discharge at sea.
Blockchain technology applied to ports
Waste traceability

Blockchain technology is ideal, compared to other digitization technologies, to attract multiple agents of the logistics-port community, whether they are public or private, and align them with the objectives of the port authority.

With PORTNET, we intend to achieve traceability of waste and significantly reduce times and efforts for procedures in waste reception service at ports. Specially in MARPOL V waste, organic fraction, and hazarpous waste, as well as from those located in Port containers.

Blockchain not only streamlines administrative procedures but also provides a great degree of transparency.

PORTNET is open for all kinds of inspections that need to be carried out by different agents involved into waste management processes within a port area according to the current regulations.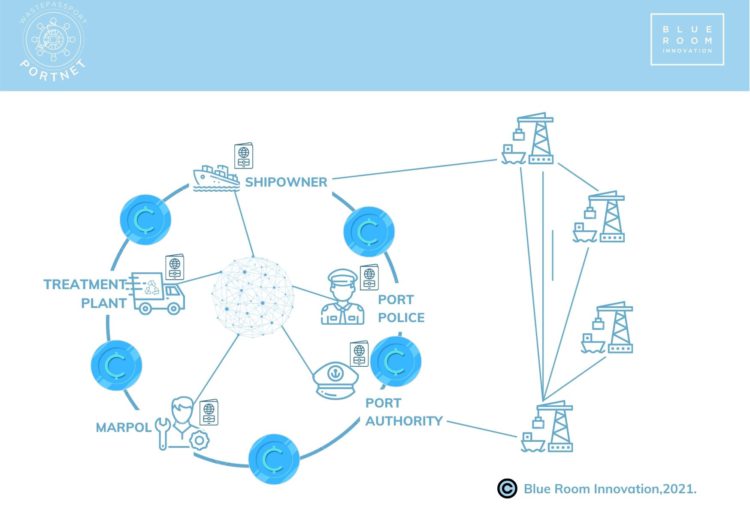 Incentivizing recycling: turning waste into assets within the value chain

Finally, is important to highlight the additional circular component in our project. PORTNET will develop a new token for a secondary market to incentive those shipowners which deliver their waste sorted, converting it in an asset for the whole value chain.

Shipowners receives bonifications, port authority increases recycling indicators following the Smart Ports approach and waste reception companies obtain valuable waste to trade with.
PortNet development suports
PortNet project, devised by the Blue Room Innovation team, has achieved the suport and funding of GALATEA. It has also had the support of ACCIÓ to develop and test its WASTEPORT technology component at the ADALMO facilities. Finally it should be noted that the Port of Palma acted as a facilitating agent for the implementation of the pilot.
You want to know more? Are you interested in the project?
Write us to info@blueroominnovation.com! y seguro que podemos colaborar!

Find us!
Cristòfol Grober 4, local 35
17001 - Girona
Gran Via Carles III, 98 planta 10
08028 - Barcelona